Projects
Early immersion in the planning and design allows the MTV team to undertake comprehensive analysis of the environment and ventilation requirements, make accurate calculations, and create designs that facilitate ongoing expansion of the system where required.
MTV's project experience extends from the construction of some of Australia's most significant civil tunnel works, to a portfolio of demanding underground mines.
1 x Korfmann AL25-5000 – 500kw Fan horizontally mounted underground
1 x Korfmann AL28-5000 – 500kw Fan Vertically Mounted Surface Fan
1 x Korfmann AL28-5500 – 550kw Horizontal Primary Fan with 1000V Soft Starter
1x AL28-5000 415V 500kw Vertical Fan; 1x Twin AL28-5000 415V 500kw
Approached with a request to modify their existing ventilation system to increase pressure across the mine, MTV devised a cost-effective solution where two Korfmann AL22-2500 fans were added to the existing parallel fans to create twin fans in series.
A unique configuration of four MTV 1400-132kw fans in parallel, with three always in operation and one available for safety and maintenance purposes. Modular manufacturing technique allowed for easy transport and rapid installation at depth of 500m.
6x AL16-1100 Korfmann Vertical Fan with 1000V 110kW Mine Spec Motor
1x AL28 Korfmann Vertical Fan with 1000V 500kW Mine Spec Motor;
1kV 560kW VSD Starter Container
1x AL25-6300 1000V Vertical Fan
3 Korfmann Single Stage AL18-4500 Fan with a 450kW, 4P, 415V WEG or
TECO Mine spec motor
2 x 3.7m diameter, 2.2MW/ea Primary Centrifugal Fans Each Fan is fitted with 2,200 KW Motors (4,400 KW of combined power); to suit their exact requirements for current and future duties. The fans' joint capacity will provide the volume of air of 600m3/s @ 6,000Pa in pressure. Scope of works:  The overall installation stands just under 14m in height with […]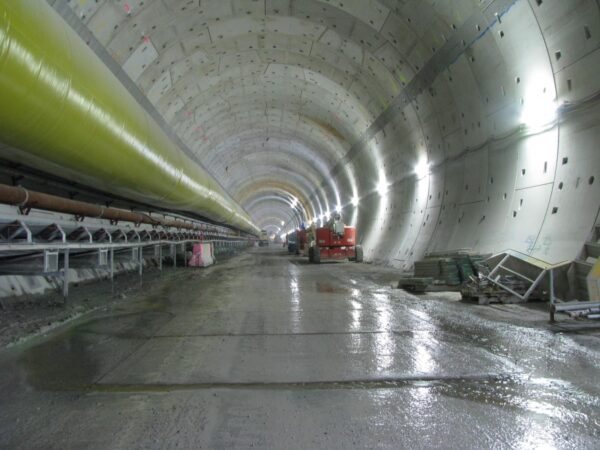 MTV was contracted to provide ventilation and dust extraction for the roadheader development of the two-lane 4.8 kilometre tunnels.
Primarily underground 6.7 kilometre road connecting Brisbane CBD with the airport.